Grease Recovery Device
---
Goslyn Models Page
---
Goslyn Grease Recovery Devices control the flow of waste water going in and out of the units. A Goslyn is sized by the time it takes to drain the 3-compartment sink.
A Goslyn Grease Interceptors excel in facilities with solid traffic, loads of dishes, pots and pans, and kitchen utensils. The Goslyn is a durable work horse that can easily manage extreme hot temperatures and vast water flows from 3-compartment sinks and automatic dishwashers.
---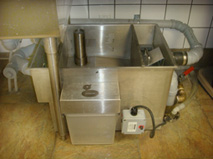 Goslyn Restaurant Models
GOS-4040 LitreUsed in QSR & Grocery
GOS-60 & GOS-8060 & 80 LitreUsed in Casual Dining, Banquet Hall, Medium Kitchens
Goslyn Industrial Models
GOS-160, GOS-240, GOS-320160, 240, & 320 LitreUsed in Mfg, Hospital, Country Club, Large Kitchens
A Goslyn can not be overpowered by a strong or hot flow of waste water. Restaurant grease will never bypass a Goslyn unit. Backups and overflow will not occur with a Goslyn Grease Recovery Device.
A Goslyn representative will always provide a pre-sale onsite visit to determine correct model and accurate pricing. Low-profile Models are stocked and available.
---