Grease Recovery Device
A Goslyn GRD outlasts and outperforms all grease traps and grease interceptors on the market. Goslyn never requires grease trap pumping. Grease Trap Bacterias & Chemicals are not used. No rancid Odours.
Recovered grease is recycled with the waste vegetable oil (WVO) from the deep-fryers.
There is zero waste with a Goslyn Grease Recovery Device.
---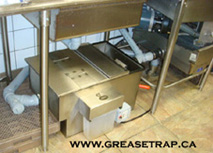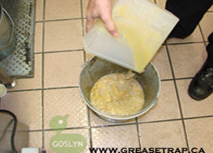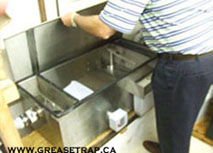 Goslyn Features
Goslyn recovers fats, oils, and grease (FOG) from restaurant waste water. (3-compartment sink & dishwasher) The FOG is captured in a container at the front of the unit. Food solids are trapped in a solids strainer.
Goslyn Grease Interceptors are made of stainless steel that never rust or leak. There are no moving mechanicsl parts or consumable parts to replace. Goslyn Grease Interceptors are durable with superior grease recovery (99.6%) providing an extremely long life span.
---
Goslyn systems are maintained daily by the restaurant staff. The rancid odors from a typical grease trap do not exist. FOG and Food solids are emptied daily. Maintenance is clean and simple taking less than two minutes.
There is nothing rotting inside a Goslyn Grease Interceptor. A Goslyn is never an embarrasment to the kitchen facility. Goslyn can be placed in centre store locations. Goslyn improves the working environment of any restaurant kitchen or food service facility.
---